Kirby Medical Center CEO Completes the Oldest, Largest and Longest Multi-day Bike Tour Event in the World for the Second Time
Category: Blog
Posted On:
Written By:

Kirby Medical Center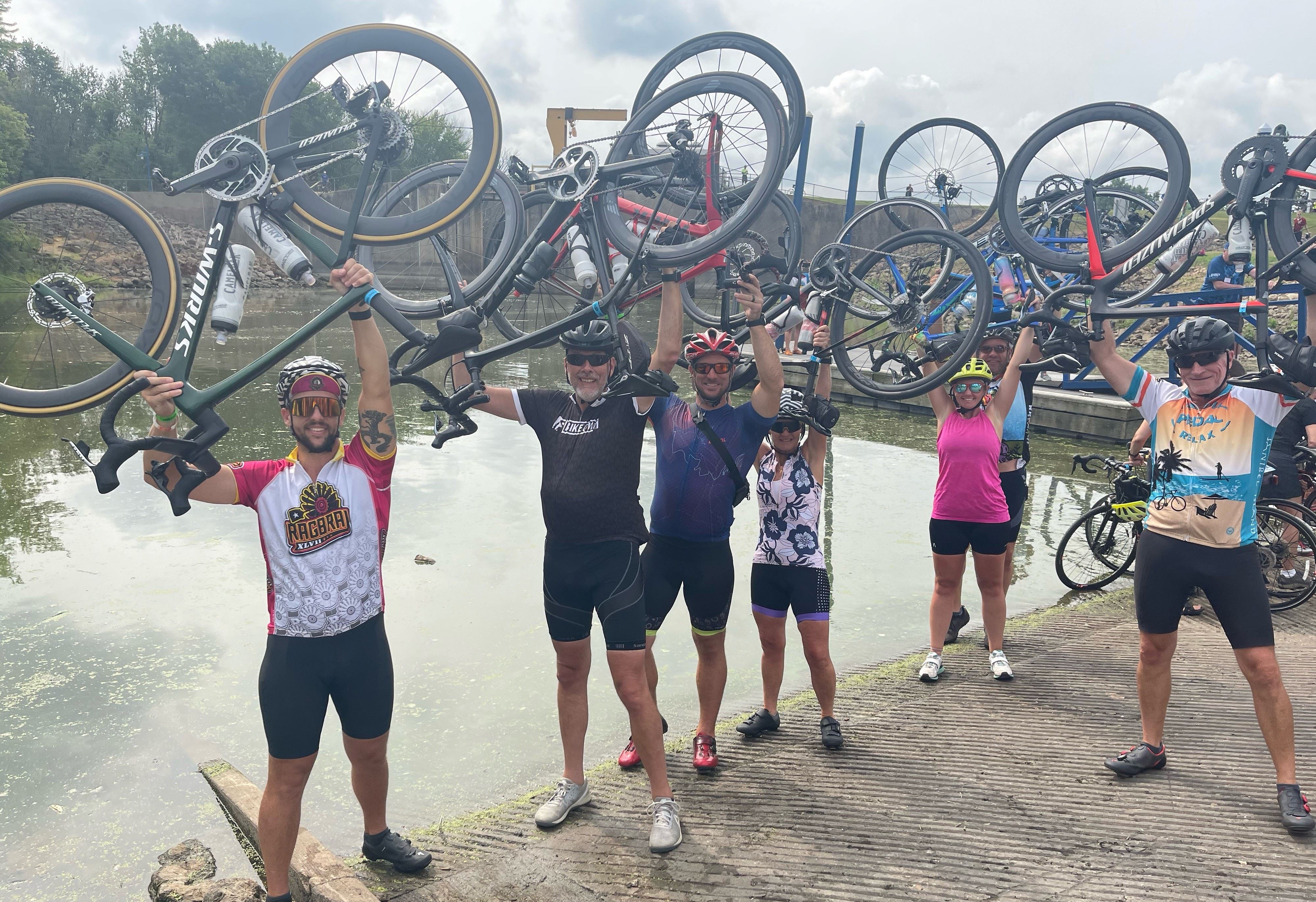 Kirby Medical Center CEO Completes the Oldest, Largest, and Longest Multi-day Bike Tour Event in the World for the Second Time
Kirby Medical Center CEO, Steve Tenhouse, completed his second RAGBRAI, a seven-day bicycle ride across the state of Iowa. RAGBRAI stands for The Register's Annual Great Bicycle Ride Across Iowa. The seven-day total mileage for RAGBRAI is 485 miles, including a 112-mile day! 12,000 to 20,000 people "ride RAGBRAI" the last week of July each year.
"Iowa is hilly and that is something I didn't truly appreciate until we rode RAGBRAI for the first time in 2019. There are no hills in this area of Illinois to prepare for the hills of Iowa and I found gears on my bike that I had never used before. Training for a ride of this length is key and we put in the time and the miles. I had already ridden over 2,500 miles in 2021 either outside on the road or indoors on my trainer in the winter to prepare. Our training slowly intensified as we got closer to the end of July where I was averaging 100 miles a week and we were regularly doing 50-80 mile daily rides," says Steve.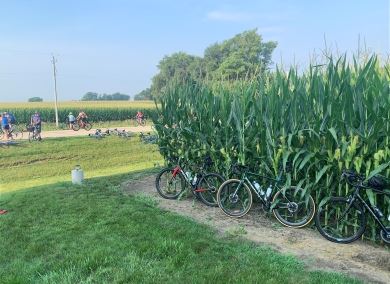 Day 1 about 20 miles into the ride
There was a homestead that was selling water, fruit, and snacks and had other games you could participate in. Who needs a bike stand when you have a cornfield?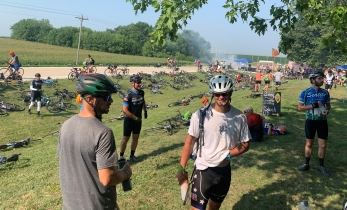 Typical daily gathering at the Mr. Porkchop site.
The second generation of the Mr. Porkchop family is now traveling along with RAGBRAI fixing 1.5" "Iowa Chops" on a stick over an open flame.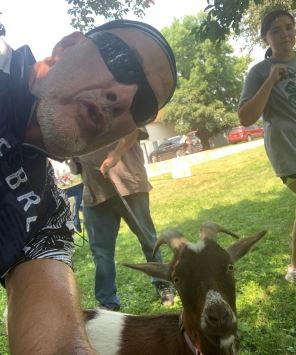 Just your typical occurrence along RAGBRAI
"We rode into a pass-through town and the local 4-H club had a water station set up and had some of their animals there. Just an example of a simple way for a local club to raise money for their cause, and for riders to get to know them and share some life stories."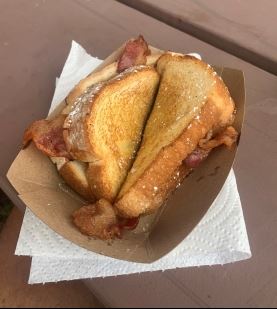 "Food is a huge deal during RAGBRAI and there are endless options. I enjoyed a grilled cheese sandwich with raspberry chipotle jam, bacon, and tomato. It's the one week where I could really not worry about what I was eating – my daily caloric burn averaged around 5,200 calories and getting enough food into my system was definitely more of a problem than too much. On the Karras Loop Day, we rode 112 miles and I burned over 6,600 calories."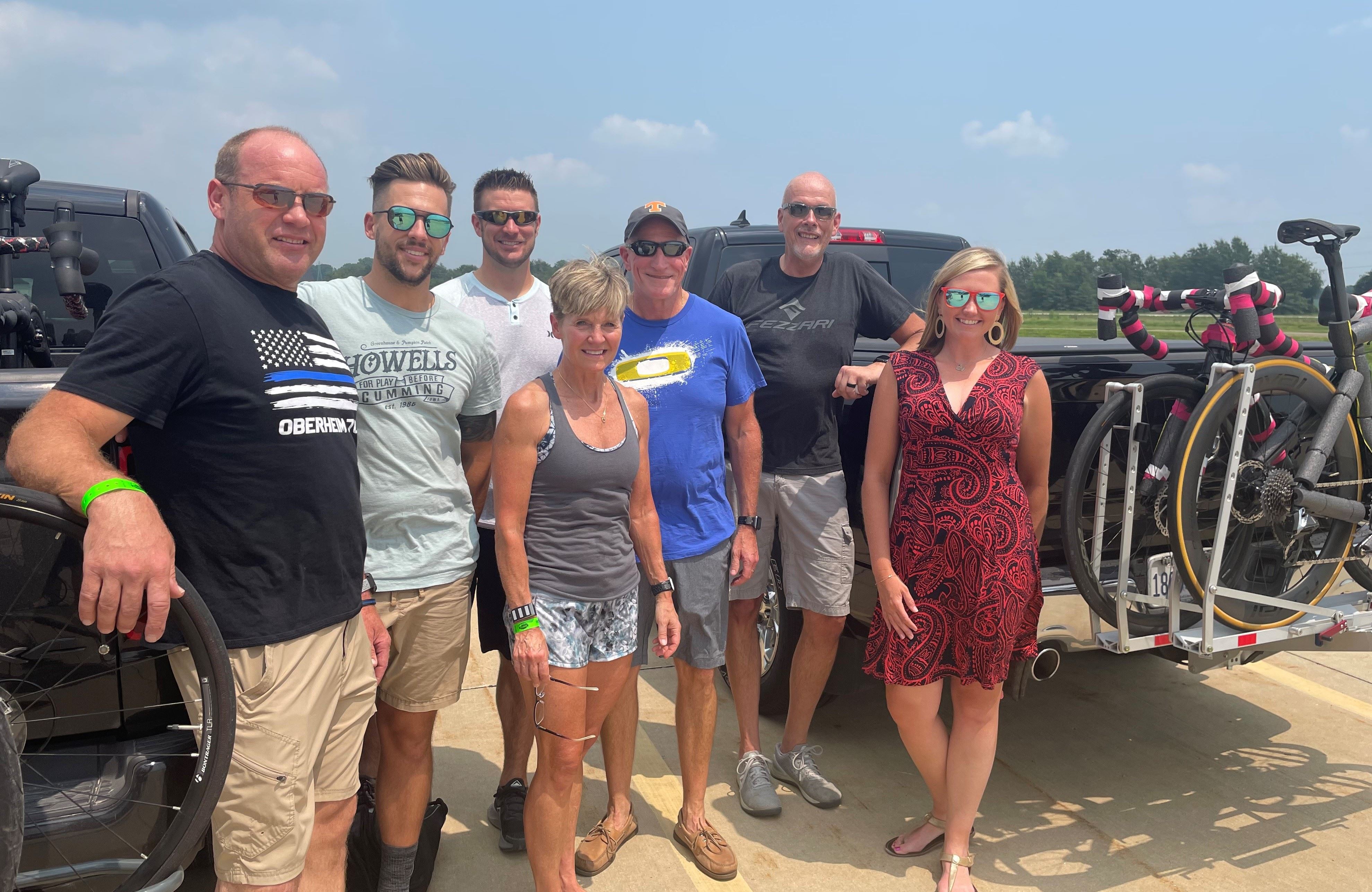 7 members of our community participated this year!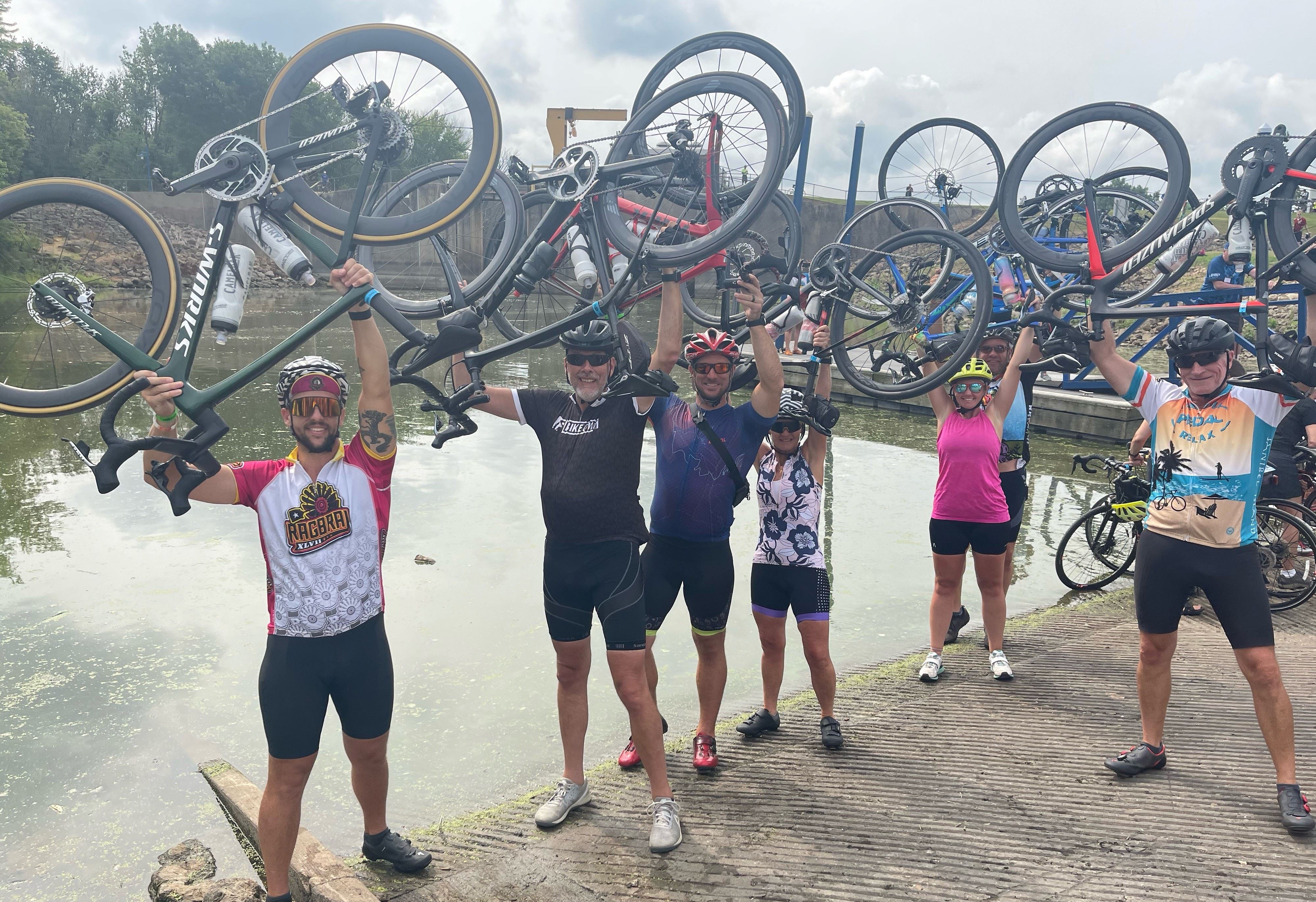 The "Tire Dip"
The tradition is to dip your front tire into the Mississippi; signifying the end of the ride.
RAGBRAI has happened each year for the last 49 years with 2020 being the first year it was canceled. It started with 2-3 guys who worked for the Des Moines Register newspaper getting the wild idea of seeing what it would be like to ride across the state of Iowa. They did it unsupported and then did it repeatedly with the crowds growing each year. The route differs each year, but each year the route is 450 – 500 miles long and is covered over 7 days. Each year they have the "Karras Loop", named after one of the RAGBRAI founders, that gives participants the opportunity to increase that day's mileage to over 100 miles.
The RAGBRAI organizers spend most of the offseason plotting out the route and having towns submit applications to be a "pass-through town" (a town that the ride route goes through), a "meeting town" (one town every day that has the main festivities, vendors, etc.), and the "sleepover town" where all those thousands of people camp overnight. There is a big reveal every January that discloses the route and the overnight towns. The opportunity for a town to host RAGBRAI as a pass-through, meeting, or sleepover town is incredible – the local restaurants, businesses, and not-for-profits all turn out to sell food, merchandise, and beverages and can raise an unbelievable amount of money for their cause in just 12 hours.
Here's a recap of RAGBRAI 2021 days and miles:
Day 1: LeMars to Sac City – 87 miles
Day 2: Sac City to Fort Dodge – 69 miles
Day 3: Fort Dodge to Iowa Falls – 54 miles
Day 4: Iowa Falls to Waterloo – 66 miles
Day 5: Waterloo to Anamosa – 112 miles (including 27 additional miles on the Karras Loop)
Day 6: Anamosa to DeWitt – 64 miles
Day 7: DeWitt to Clinton – 33 miles
"Looking forward to a new RAGBRAI route and new memories in 2022!" -Steve