In Honor and Gratitude
Category: Blog
Posted On:
Written By:

Kirby Medical Center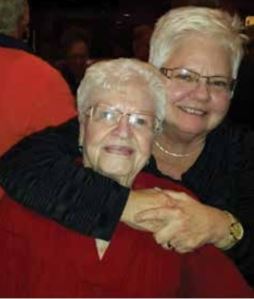 During Goldie Hutchcraft's time at Kirby Medical Center, the staff become an extension of her own family, according to Goldie's daughter, Donna Hutchcraft Fackler, both of Champaign.
Unfortunately, Goldie passed away on August 16th, 2020, at Kirby, but Donna is grateful she was in such good hands until the end.
"The staff not only treated my mom with respect but also made sure all of our needs were met," Donna says. "The fear of the unknown is hard, but they certainly made the transition easier."
In Goldie's honor, her family gave tribute gifts to The Kirby Foundation as a token of gratitude.
"These memorial gifts allow us to acknowledge our appreciation for the care Kirby provided not only to our mom, but to all of us family members," Donna says.
*Pictured is Goldie Hutchcraft with her daughter, Donna Hutchcraft Fackler
Memorial and Tribute Gifts
Whether your gift celebrates the memory of a special person or honors a Kirby caregiver, your generosity enhances the care and advances the services Kirby provides.