Bring Your Healthcare Career to Life at Kirby Medical Center
Category: Blog
Posted On:
Written By:

Kirby Medical Center
Kirby employee Heidi Apperson says culture, community comes first.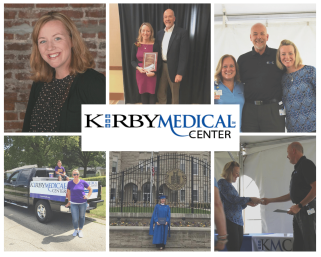 From Seattle to Chicago and New York City, hit medical TV shows sensationalize the drama of working for a hospital in a bustling, big city. While the medical demands in large, metropolitan areas are vast, rural healthcare plays an equally vital role in keeping patients around the country healthy and diverse communities thriving. For Heidi Apperson, Kirby Medical Center's Director of Marketing & Community Relations, working for the medical center is anything but mundane.
"In my current position, I wear a lot of hats. This includes handling sponsorships, advertisements, billboards, social media and our website," explains Apperson. "I also help manage special events and work closely with the Kirby Auxiliary and The Kirby Foundation. Every day is a little different, and I think that is my favorite part of my job."
Apperson has been with the organization for nearly two decades, getting her start with Kirby Medical Group in Atwood during a high school work-study program. In 2004, she joined the Atwood team full-time as an office assistant. Even after relocating in 2010, when her husband became Piatt County Sheriff's newest deputy, she stayed loyal to Kirby and joined the team in Monticello. All the while, Kirby encouraged her to grow and learn.
"Since working at Kirby, I took advantage of their tuition reimbursement program. I received my medical transcription certification, associate degree, bachelor's degree and most recently, my master's degree," says Apperson.
In addition to its unique tuition reimbursement program, Apperson believes it's the all-around caring nature of the organization that sets Kirby apart.
"I have taken my boys in for broken bones, had surgeries myself, and been a patient in many different areas of the hospital. The staff always shows true concern," says Apperson.
Not to mention, Kirby's location makes it extremely convenient for residents in Monticello, Atwood, Cerro Gordo, and all of Piatt County to receive comprehensive care without traveling far. Apperson says convenience is just one of the many ways Kirby shows their dedication to the community.
"Kirby is so involved in our community, from generous sponsorships to just showing support in any way we can. I love that my employer shows generosity and truly cares," says Apperson.
For anyone considering a career in healthcare, Apperson's advice is simple.
"I would encourage anyone interested in working at Kirby to do it!" says Apperson. "You will not regret it. The Kirby culture is top-notch."
If you're interested in a career at Kirby Medical Center, view open positions at http://ow.ly/aJnT50Ffudm.