Frerichs and Haworth Join The Kirby Foundation Board of Directors
Category: Blog
Posted On:
Written By:

Kirby Medical Center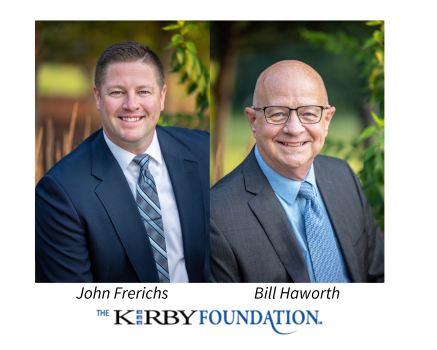 Frerichs and Haworth Join The Kirby Foundation Board of Directors
MONTICELLO, IL -The Kirby Foundation is pleased to announce that John Frerichs and William (Bill) Haworth, both of Monticello, have recently joined its Board of Directors.
The Kirby Foundation Board of Directors facilitates efforts to build relationships within the surrounding communities that Kirby Medical Center serves, leading to charitable gifts in support of community health resources and education, patient care, and medical campus improvements.
"The Foundation is excited to welcome John and Bill to the Board. We're very fortunate to have their volunteer leadership and enthusiasm for creating community partnerships. Each of them brings a unique perspective and passion to the important work of improving healthcare in our communities." said Sarah Ross, Director of Development.
Frerichs is a Real Estate Broker with Keller Williams Realty in Champaign and has served on the City of Monticello's City Council as well as the Zoning Board. John and his wife Mara reside in Monticello with their three children Jocelynn, Kiana, and Luther.
"Joining the Kirby Foundation Board is an opportunity to share the stories from within the hospital to the community that we serve. Through excellent health care and community support, I believe that KMC continues to touch the hearts and lives of its patients. My goal is to keep growing this tradition of caring and share these stories of the hard work the men and women at KMC offer so that we can thrive to be a stronger community, together."
Haworth has been a Monticello resident since 1979, after moving to the community to be a band director for the school district. Following his 13-year role as a band director, he started a 33-year career as a flight attendant with Northwest/Delta Airlines.
"After traveling all over North America and the rest of the world for much of my life, I have chosen to spend my final chapter in Monticello. As residents, we are blessed for many reasons – our central location; an amazing school system; and a great community of gifted and talented citizens. We have an outstanding medical facility that would be the envy of any community, and simply unbelievable for a community the size of Monticello."
Since moving to Monticello in the 1970s, Haworth has maintained strong connections to Kirby Medical Center, including being a member of the first class of paramedics and working part-time as a volunteer paramedic for the Kirby Hospital Ambulance Service during his teaching career. For the last ten years, he's also been an active member in the Kirby Auxiliary volunteering hundreds of hours decorating Kirby's Christmas trees and working in the Auxiliary Gift Shop. After retiring from the airline in 2020, he has served in part-time roles at the Out of the Blue Polish Pottery store and recently began working as a registration clerk in the ER Department at Kirby.
Having an opportunity to work alongside other Kirby Medical Center employees has strengthened his appreciation for the work they do. "Kirby employees are incredible professionals. I hope to do everything I can to promote their outstanding work and dedication to the health of our communities in my role as a Foundation Board member" says Haworth.
The Board also recently elected executive officers for 2021-22. Luke Feeney of Monticello was elected as Chair; Veronica Seevers of Cisco serves as Vice-Chair; Steven D. Tenhouse of Monticello was elected to serve as Secretary and David Brown of Monticello serves as Treasurer. Other Board of Directors includes Brandon Hissong, Monticello; Tony Kirkman, Monticello; Kathy Plunk, Mansfield; Tony Pomonis, Monticello; Jay Timmons, Monticello and Rory Wright, Monticello.
For more information about The Kirby Foundation, visit Giving