Kirby Staff Hosted a Surprise Lunch for a Patient Celebrating 70 Years of Marriage with His Wife.
Category: Blog
Posted On:
Written By:

Kirby Medical Center
Kirby Staff Hosted a Surprise Lunch for a Patient Celebrating 70 Years of Marriage with His Wife
Kristin, Kirby Dietitian, Hayley, Apple A Day Café, and Megan, RN, came together to give the Hanley's a special meal to celebrate their 70th wedding anniversary before being separated.
During a Care Conference on Thursday, July 29th, it was brought to Kristin's attention that due to COVID-19, a patient of ours never got to celebrate him and his wife's 70th Wedding Anniversary. David was a marine and married his wife, Mary, on December 31st, 1950. He was 24 years old and Mary was 19. They met through mutual friends and have been residents of Decatur their entire life. After he returned from World War II, he built his own house by hand, where they have shared all 70 years together. They have 3 children together.
"It was a complete surprise to me! I walked in and the staff had him ready to go and I had no idea," says Mary. "Everything was beautiful, even the dessert!" In 24 hours, our staff was able to pull together a surprise lunch in honor of their 70 years together.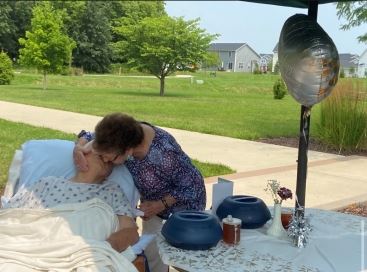 Hayley and Kristin, from our Apple A Day Café, put David's favorite meal together. It consisted of salmon, mashed potatoes, carrots, and a special dessert made by Hayley. The dessert was a strawberry cheesecake topped with whip topping and fresh strawberries with graham cracker crumble. His wife had a graham cracker crust- a few of their favorites! David loves to fish and has eaten it most days he has been at Kirby.
The morning of the lunch, Kristin went out and bought decorations and coordinated a time on the garden patio for David and his wife, Mary, to celebrate their anniversary before they were separated. Flowers were purchased, a balloon was displayed, and a table was set for a special lunch date.
David will be going to a nursing home and Mary will be moving into an assisted living facility. "The second I heard this, I knew we had to do something special. I honestly just wanted to give them a reason to smile that day as their love for one another was inspiring," says Kristin.
We are grateful for such passionate members of our Kirby team. It was a beautiful afternoon, celebrating a beautiful couple.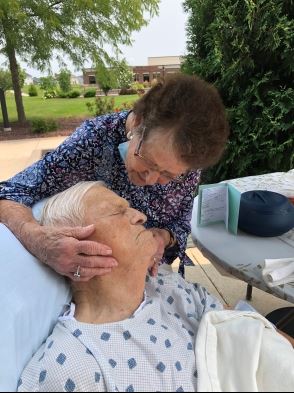 From the family of Mr. and Mrs. Hanley,
Thank you and the Kirby staff for creating such a beautiful day for mom and dad in honor of their 70th wedding anniversary which was Dec 31, 2020. Due to Covid-19, we as a family was unable to gather together for their special day. We truly appreciate your thoughtfulness.
Sincerely,
Julie Cartwright (daughter)
Jeff Hanley (son)
Dr. Rod Hanley (son)