Love is in the Apple a Day
Category: Blog
Posted On:
Written By:

Kirby Medical Center
Love is in the Apple a Day
Madison and Scott are employees of our Apple a Day Cafe at Kirby Medical Center. They met at Kirby Medical Center and now they are headed for a lifetime of happiness together! Take a look at their story.
How They Met
When they first met, Scott was a cook at Apple a Day and Madison had just been hired for the Cafe. Their friendship started when they helped a mutual friend move.
Scott and Madison began dating in November of 2019. They got engaged in July of 2020 and were married November 21st of 2020! As Madison says, " when ya know, ya know!'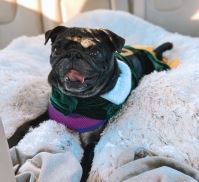 A Little Bit About Their Life
They have one dog, Mia. She is a six year old black pug with a chaotic, but very loving personality. They enjoy all the time with her!
"We love taking spur of the moment trips. We recently bought a Six Flags membership and went the very next day. We also enjoy road tripping together. We are driving over flying all the way! Way more opportunities for adventure that way." -Madison
They also enjoy playing video games together. Scott actually built her her own PC!
What Kirby Means to Scott and Madison
"It's not just a job- it's a family. Everyone has been so kind and supportive of us since day one! We both love serving the community in any way we can, and that is a HUGE part of what Kirby is all about."
Together Off and On the Job
'We definitely worried at first if it would cause any issues (being married and working in the same department), but honestly, it's been amazing! FNS is a very casual work environment. We all get along really well together. We know how to finish the job quickly and efficiently while still allowing ourselves to have some fun throughout the day. We've been able to maintain having a professional relationship since I started working here- getting married really didn't change any of that. 😊"
We are so glad to have Scott and Madison as part of our Kirby family and to even bring them together for a lifetime of happiness! Congratulations on your newest adventure as a married couple!