Piatt County Fire Association Supports Purchase of CPR Device
Category: Blog
Posted On:
Written By:

Kirby Medical Center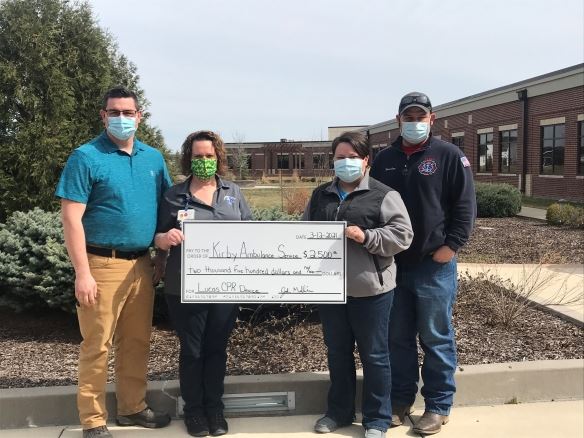 The Piatt County Fire Association has donated $2,500 to The Kirby Foundation in support of the purchase of a mechanical device that will allow the Kirby Ambulance service to improve the quality of CPR they provide patients.
The LUCAS Chest Compression System, is a hands-free device that improves CPR quality by increasing chest compression fraction time—on-scene, during transport and throughout the entire resuscitation. It also can free up one provider allowing them to provide other care to the patient during transport.
The Association, created nearly two decades ago to provide mutual aid to area fire departments, law enforcement personnel, Emergency Management, 911, and the county's ambulance service, works to improve the safety and well being of the communities they serve.
"Our commitment to our Association's mission has taken on an even greater sense of urgency this past year as we've navigated the challenges and changes to patient care as result of COVID-19 guidelines." says John Mullin, Association President. "We are proud to contribute to the emergency care in our communities by donating to the purchase of this life saving device".
Recognized as an Advanced Life Support Service, Kirby's emergency medical technicians (EMTs) and paramedics serve our communities 24 hours a day, 365 days a year and work in partnership with other community first responders to ensure that patients receive the best possible care in an emergency.
"The relationships we have with the other area emergency responders are extremely important to us." says Crystal Alexander, Director of Ambulance Services. "We're always looking for ways that we can improve and strengthen the emergency and transport services we provide -- and areas that we collaborate within our community. This generous donation is a great example of the cooperative spirit of the Association and the benefit it provides to community members."