Andrew and Jordan, Members of Our KMC Active Program, Completed the Ironman Triathlon This September
Category: Blog
Posted On:
Written By:

Kirby Medical Center
Two impressive athletes completed the Ironman in Wisconsin this September. We are proud to have these two athletes be a part of our KMC Active program and our Kirby Team.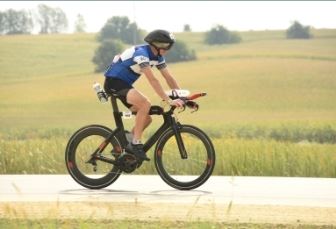 Andrew Buffenbarger, Chief Compliance Officer, crossed the finish line after a 2.4-mile swim, 112-mile bike ride, and a 26.2 -mile run. Jordan Barney, KMC Active Coach, finished the half Ironman which consisted of a 1.2-mile swim, a 56-mile bike ride, and a 13.1-mile run.
For Andrew, the run took him about 13 hours and 45 minutes to complete. " A great deal of credit goes to my wife for her support over many months of training and invaluable presence on race day. It was an unforgettable experience," says Andrew.
"This event was way outside of my comfort zone. Many thanks to the athletes at CFKMC, Steve Tenhouse and crew for organizing and leading group bike rides, Coach Jordan's words of wisdom and willingness to join me for training sessions, Sara Eades, and Anna Crawford's nutrition advice. In hindsight, this accomplishment is the result of a collective group of like-minded people that quietly and selflessly inspire me and others each day to be a little better than yesterday."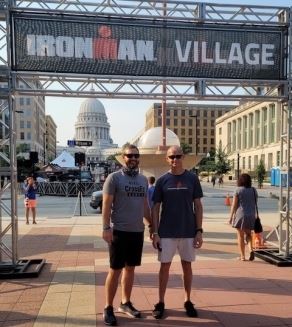 "The environment was absolutely incredible," says Coach Jordan. "When you think of CrossFit as a very supportive community, it felt just like that. Tons of people just there showing appreciation for athletes of every kind. Throughout the race, spectators were lined up all over and I don't believe there was ever a time when there wasn't at least one spectator cheering you on.
For a race like this, in my opinion, it takes a team to get you there. From the beginning to the end. I could never have done this on my own. From my wife meeting me around the race for extra motivation to everyone at CrossFit for pushing me to make me tougher, and to Andrew for making me run and bike with him and do challenges to get me ready. In many ways, CrossFit helped me prepare for this race.
Let's all build something special at KMC Active. We have the people to help you reach your goals," says Coach Jordan.
If you are interested in setting fitness goals or looking for an encouraging community, call us today.